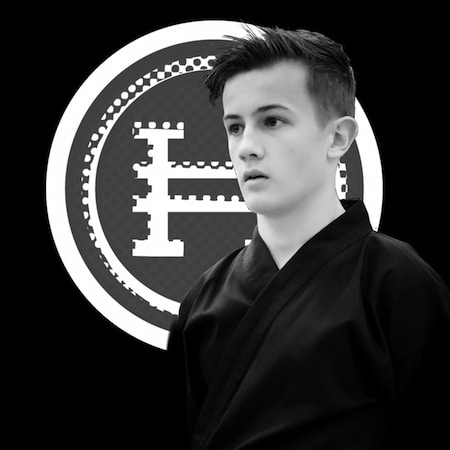 Joel Davies
My favourite achievement has to be developing the goals for children, particularly those with learning difficulties, providing structure and guidance to help them overcome anything they want to. My patience and empathy has produced exceptional results and helped students overcome their fears and gain the self confidence and self-discipline in their lives. This I am particularly proud of helping them achieve.
Joel has been training alongside Master Scott since the age of 8 and now, at the age of 18, having spent many years learning from his mentor, he is a fully rounded instructor with a wealth of experience of his own. Joel is a certified Hyper Pro training instructor and takes a major role in these classes where his acrobatic abilities and weaponry skills make him an invaluable instructor. Naturally skilful himself Joel has the ability to be able to break down and explain techniques and pass on his skills to the students in a calm and clear manner making him a firm favourite amongst students of all ages. As a very successful competitor himself Joel is particularly proud of the success the students have gained at competitions, providing mentoring and advice that recently lead to one of his students to become a World Champion.
My favourite program is hyper Pro Training and the tricking and gymnastic elements at our Ramsey & Huntingdon academies for 7 to 16 year olds.